Intercambios de inglés gratis en Granada:

¿Cuál es tu excusa para no practicar fuera del aula? (13.05.20: COVID-19 Suspendido hasta nuevo aviso)
¿Estás estudiando el B1, B2 or C1, o vas a estudiar inglés o trabajar en Inglaterra, Irlanda o Malta? Entonces, una de las mejores formas de desarrollar tus habilidades de "speaking & listening" es asistiendo en los intercambios de inglés gratis en Granada. Además, puedes conocer a nuevas personas. Sobre todo, la misión de Inglés Ya es ayudarte a aprender inglés de la mejor manera. Por eso, nuestra lista de "intercambios de inglés gratis" está inscrito en inglés.
Hasta el 10 de marzo: 10 eventos gratuitos, 1 de pago y 3 talles de inglés
Los lunes
Mondays: 20.30h -22.30h Bar: Lemon Rock, C/ Montalbán Molinos, 6 (Free entry)  Active                                    
Now in its 5th year, this very popular event is in one of the trendiest places in town! A dynamic and open to all ages although most participants are under 30 years old. Therefore, get there early for a seat! More details in Lemon Rock Facebook.  Facilitator: María José y Alba del Centro de Lenguas Modernas.
Mondays: 21.00h -22.30h Raices- Centro Cultural:C/ Buensuceso,1 Plaza Trinidad (Free entry) Active  A Christian based organization that has organized a "Club de Inglés"  for several years. It attracts between 20- 30 Spanish speakers and North Americans who chat about a given theme. Only English is spoken and it is recommended to university-aged students with at least A2/ lower intermediate English. https://raicesgranada.org/quienes-somos/nuestros-clubes/ Facilitator: Shawn
For more ideas to enjoy Granada, we recommend "5 Things to do in Granada for free" by "Spanish Sabores".
Los martes
New! Every Tuesday: 15.15h- 16.30h Zona Puerta Real, Recogidas (Free entry) Desde el 25 de febrero                  No se trata de clases de inglés ni de intercambio lingüísticos. Un voluntario estadounidense propondrá actividades que hagan que se hable en inglés Para inscribirte busca en Facebook el grupo privado "Api Granada Intercambios" y solicita ser admitido o dínoslo en [email protected]. Después sigue las instrucciones.
Taller de Conversación
Tuesdays: 20.00h -23.00h Hotel San Antón,  Calle San Anton 74, Granada, (Free entry) Active

Regular weekly TENGO Meetup. This is an opportunity to speak English in an informal setting. It is not an intercambio in this respect as there is no opportunity to practise castellano or other languages. However, if you only want to speak English, this could be a great option.  Facilitator: Kay http://www.meetup.com/TENGO-granada-social-group/events
Tuesdays: 21.30h Bar: Entresuelo, Plaza de San Agustín, 2 (Free entry) Active
Now in its 4th year, this very popular intercambio has changed to Tuesdays. It draws a mixed age group with between 20 and 30+ attendees. A well-organized event in a great bar with plenty of space and quiet music that encourages relaxed conversation. Please arrive early to guarantee a seat!
Facilitator: Mª Angeles: del Centro de Lenguas Modernas: https://www.clm-granada.com/lem/es/intercambio.html https://www.facebook.com/EntresueloGranada/
Every other Tuesday: 21.15h Bar: Taberna Atienza, Calle Obispo Hurtado 18 (Free entry) | cada 2 semanas
This intercambio was held at a different venue last year. Corinne is the person to contact. It is held every other Tuesday and there is a WhatsApp group created to share updates. The next event is Tuesday 24th February. Facilitator: Corinne https://www.facebook.com/taberna.atienza
Los miércoles
Wednesdays: 20.45h- 23.00h La Paulina C/ Nueva de la Virgen 12 "Totes Intercambio" (Free entry) Active
Back for another year, Granada's most established intercambio, draws on a mixed age group with around 20 attendees every week. Many regulars but new attendees are always welcomed. Facebook page "Totes Intercambio De Idiomas Granada." Castellano and English. Facilitator: Totes.
New! Every Wednesday: 15.15h- 16.30h Zona Puerta Real, Recogidas (Free entry) Desde el 26 de febrero            Please see the more details in the entry for Tuesday above.
Wednesdays: 21.15- 23.30h Couchsurfing Intercambios: location changes each week. (Free entry) – Active
Join the Couchsurfing network to access event information. A good mix of languages attracting mainly younger people who love to travel. 18th September: Moana Poké, Plaza de Encarnación, 3, 18001 Granada. (Opposite Plaza de Universidad)
Wednesday: 21.00- 01.00h 4u Hotel C/ Coches de San Matías 15, 18009 (2€ Paid entry) Active                                These events are very well organized to encourage maximum interaction. Now every Wednesday. Usually it is well attended with people of all ages and nationalities.
Los jueves
New! Thursdays: 09.30h- 10.30h Zona Puerta Real, Recogidas (Free entry) Desde el 27 de febrero                        Please see the more details in the entry for Tuesday above.
Los viernes
Fridays: 18.30- 20.00h. Almalibre Açaí, Gran Via de Colón 53, 1810 | Entrada por Calle Navarrette. (Free entry) Active

Held in the ground floor of ECO Hostel, Almalibre is a stylish and spacious location for an established intercambio. It is a well organized and suits all ages. Around 30 people regularly attend this event. There is a nice mix of ages, so it is ideal for anyone who is worried about age groups. It has a nice atmosphere and the facilitators are always around to guide you and stimulate conversations (if necessary). Over half the group are regular attendees. Facebook. Facilitator: Sofía (o Rocio).
Fridays: Inter Nation: Restaurante Balagan, Calle Luis Braille, 6 18005 (Free entry) Active Feb 21st
Inter Nation organise a monthly meet up at a different venue every week. You have to sign up via their website to find out where the next event will be. This week it is at Balagan Restaurant. It should be very well attended.
Inter Nation is a platform for immigrants living in a city to connect with each other.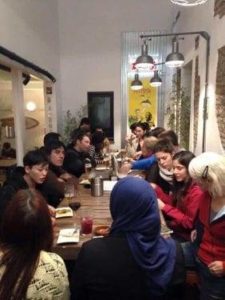 ---
¿Estás buscando una academia de calidad en Granada?  Inglés Ya te recomiendo Little Britain:
Calle Martinez de la Rosa 2. 18002, Granada | 958 373 089
Ofertas del mes: hasta 30% del descuento con cursos de inglés en el extranjero
Cursos de inglés para adultos mayores de 30 años en el extranjero
La mejor página para practicar los exámenes de Cambridge